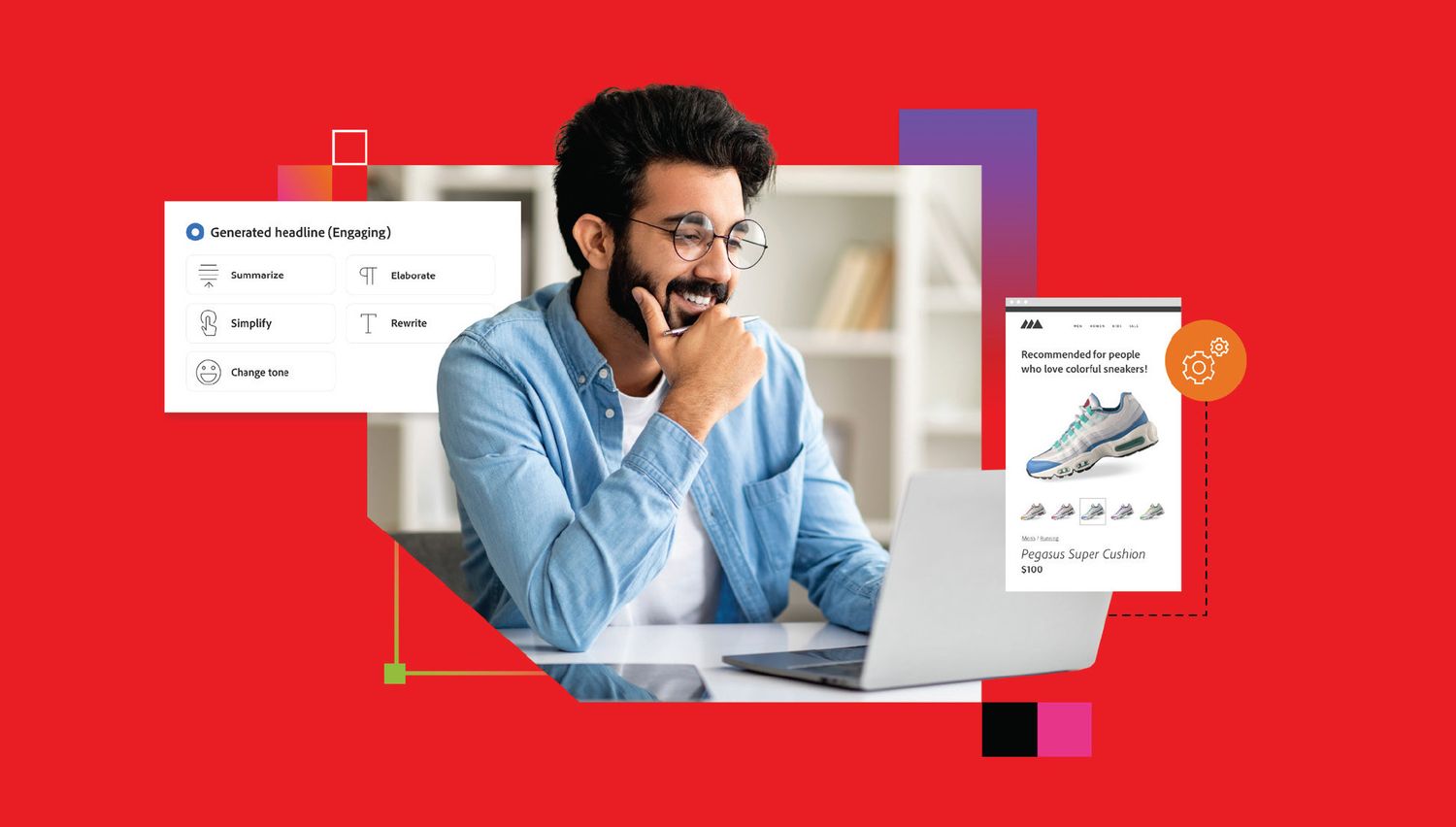 Four best practices for more relevant product discovery, content, and offers.
As inflation lingers, consumers grow increasingly price conscious. To keep their loyalty, it's critical to deliver on customers' expectations for personalised commerce experiences. Personalisation doesn't just satisfy the need for superior customer journeys—it also brings in major business benefits.
Ecommerce brands that are leaders in personalisation drive 1.5x revenue, 2x customer engagement, and a 30% increase in conversion. But getting started can feel like an uphill climb—especially since today's consumers have high expectations.
Fortunately, delivering relevant customer journeys can be simplified by using artificial intelligence (AI). This short guide explains how you can use AI powered features in Adobe Commerce to quickly personalise your commerce experience and adopt personalisation best practices.
While the vast majority (90%) of consumers say they are influenced by ecommerce personalisation—and another 90% of marketers say that ecommerce personalisation has boosted revenues—many businesses struggle with it. In an Adobe survey, only 20% of retailers were prepared to offer real-time personalised experiences. Often, data, technology, and resource challenges stand in the way.
Fixing these problems doesn't have to be a problem in itself. It can be as simple as letting AI do the hard work for you to power personalisation that converts.
The first step is to create a product discovery strategy that makes it easier for shoppers to find what they're looking for and be matched with the products that meet their needs.
Best Practice #1—Get site search right.
Shoppers who use site search are much more likely to buy something. Nearly 40% of visitors use on-site search and they convert 2x as often as non-searchers. Another 87% of brands report that investing in site search is effective in improving conversions.
But site search done wrong leaves money on the table. Over 60% of top-performing sites have "below acceptable" search performance.
Best Practice #2—Personalise product recommendations.
Product recommendations are a powerful marketing tool that you can use to boost shopper engagement. Over 30% of ecommerce revenues come from product recommendations.
Astonishingly, they can drive up to a 320% increase in conversion rates when personalised. That's why it's especially crushing that over 60% of firms don't do one-to-one personalisation for recommendations.
The most powerful part of product recommendations is that they are formed in real time as the customer engages with your site, whether the customer is known or anonymous.
Best Practice #3—Create interactive, rules-based content.
Create rich, interactive content that is driven by logic. Deliver powerful promotions, deploy them seamlessly, and personalize them by segment. With Dynamic Blocks in Adobe Commerce, you can create engaging, two-way content grounded in commerce necessities like Price Rules and Customer Segments. You can deploy tailored content specific to customer groups anywhere by placing dynamic content across your site, and connect content blocks to related promotions for automatic application of the promotion in the cart.
Best Practice #4—Design and deploy personalised promotions.
39% of US online adults recently purchased online rather than in-store because they could find the best prices, deals, and offers that way. This primes ecommerce brands to provide reprieve for inflation-weary consumers with ways to purchase products and services that are otherwise hard to find.
Cart Price Rules in Adobe Commerce apply discounts to items in the shopping cart based on a set of conditions that you decide. The discount can be applied automatically when the conditions are met, or when the customer enters a valid coupon code. When applied, the discount appears in the cart under the subtotal. A Cart Price Rule can be used as needed for a season or promotion by changing its status and date range.
See Personalised Commerce in Action at the eCommerce Expo 2023!
Visit the Adobe Stand (N30) for live demos on how to use personalisation in commerce, or to discuss how to leverage it in your business.
Talk: Adobe is joined on stage by some top brands to discuss their commerce technologies and omnichannel approach.

Omnichannel Theatre, 27th September (Day 1) at 12:20 – 12:45. Speaker: Alex Shepherd, Sales Director UKI, Adobe Commerce.

Talk: Come and listen to how Artificial Intelligence services are accelerating Commerce growth for enterprises across the world - driving faster time to value and enabling Co-pilot content creation across B2B and B2C business.

The Future of Digital Commerce Theatre, 28th September (Day 2) at 12:20 – 12:45. Speaker: Shaun McCran, Head of Product Marketing, Adobe Commerce.
News for You
The latest insights and cutting edge news on evolving tools, trends, and technology to help you exploit new opportunities in the future of eCommerce.
We're sorry, but we couldn't find any results that match your search criteria. Please try again with different keywords or filters.