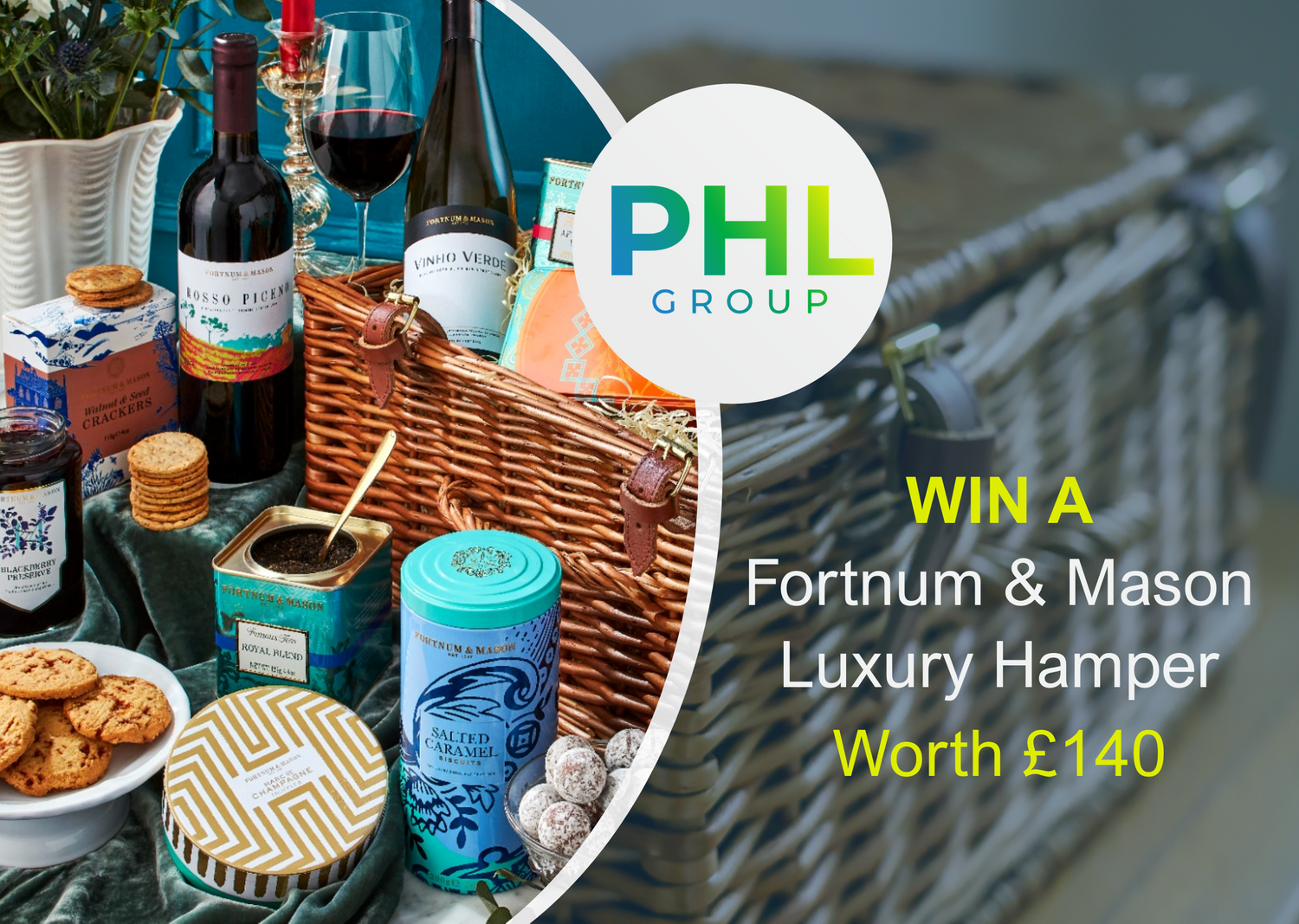 Last chance to WIN a Luxury Hamper with PHL Group
Did you miss the chance to enter PHL Group's Prize Draw to win a gourmet Fortnum and Mason Hamper worth £140? Well, you're in luck, as they have extended the entry date until the 4th November. But hurry, there is not long left to enter.
You can enter the competition here.
The fortunate winner of the fabulous Prize Draw will receive a Grosvenor Hamper (or equivalent) from the famous Fortum & Mason, London. The high-quality wicker hamper comes packed with tasty condiments, delicious biscuits, deluxe chocolates, posh plonk and much more. So be quick and enter now to add a touch of decadence to your next party or Christmas celebration.
We were thrilled to see such a fantastic turnout at eCommerce Expo this year. After many months of online meetings, it feels like finally in-person networking is back in full swing. You can't beat the atmosphere of a live event or replicate the relationships built meeting customers face to face. It was wonderful to greet old and new faces on our stand over a jam-packed two days.
The show was a fantastic opportunity to introduce some of our brand-new products- developed and launched in response to the recent changes and challenges in the retail environment during Brexit and Covid. PHL Group constantly innovates to help clients meet the demands of evolving retail trends; please read on to discover how our new digital and EU fulfilment services could help grow your business.
Shopify Websites built by eCommerce Experts

We have recently launched PHL Digital, a web agency specialising in Shopify eCommerce and custom development. We boast an expert team of developers that can build bespoke Shopify stores and develop custom-built apps.
This new venture allows us to combine our 20 years of eCommerce know-how with in-house technical capabilities to deliver purpose-built solutions to brand owners, retailers, manufacturers and e-commerce companies. Our friendly and innovative approach
PHL Digital comes with a deep understanding of the online customer journey, from brand and product discovery right through to order delivery. We are experts in integrating digital and physical processes to deliver an efficient and exceptional consumer experience. We focus on eCommerce and digital marketing services, as it allows us to use our real-world experience to develop web solutions that rise to the challenges faced.
If you have any enquiries about our digital services, don't hesitate to contact our Technical Director, David Clark, via email.
Simple and cost-competitive EU Fulfilment
Since Brexit, UK retailers have had a tough time selling and delivering goods into the EU - with heavy import charges, complicated paperwork and extended transit times. To successfully trade in the EU, businesses based in the UK need a cost-competitive and fast delivery service for their European customers.
PHL now offers EU fulfilment to take the headache out of cross-border sales. Our UK-based account management team will manage your sales and inventory, but orders will be fulfiled directly from our EU warehouse. Just ship your stock to our warehouse, and we will take care of everything else. You will benefit from our powerful Order Management Software that gives you complete visibility over both your UK and EU order fulfilment, sales and stock. Log into this cloud-based system to view real-time figures and insights to help you better plan and manage your business.
If you are interested in our EU fulfilment capabilities and would like to chat with one of our logistics experts, please feel free to book an exploratory chat with Laura via email.
News for You
The latest insights and cutting edge news on evolving tools, trends, and technology to help you exploit new opportunities in the future of eCommerce.
We're sorry, but we couldn't find any results that match your search criteria. Please try again with different keywords or filters.