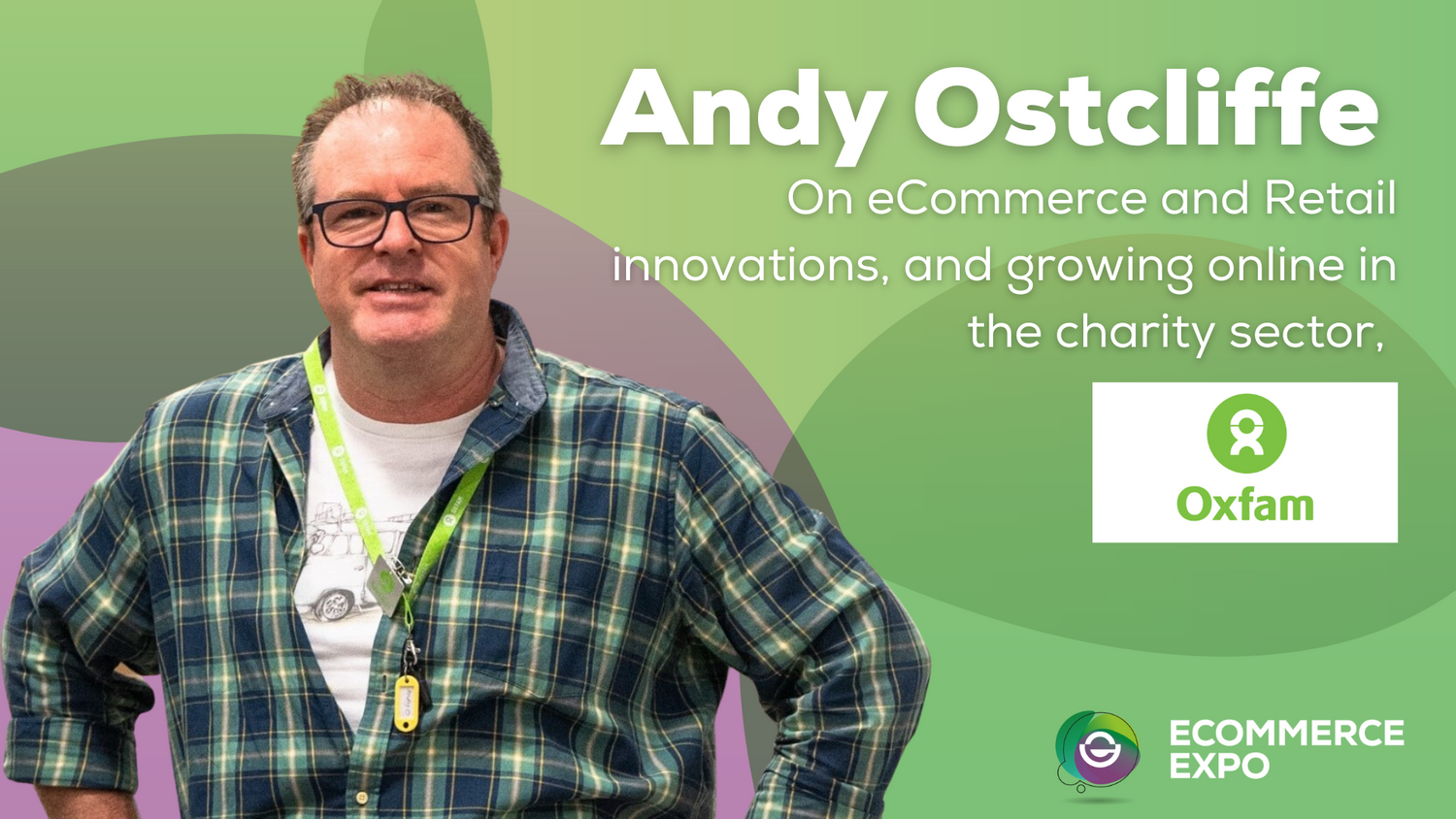 Growing Online in the Charity Sector with Andy Ostcliffe, Head of eCommerce and Retail Innovation at Oxfam
From the world of IT to a thriving career in retail, Andy has been one of the main drivers in leading the British Heart Foundation's online business to become the largest online charity reseller in the world. His passion for the online space was ignited by a successful venture on eBay in the 2000s, when he managed to sell an item he'd bought for a pound for £136. Now the Head of eCommerce and Retail Innovation at Oxfam, he leverages his expertise to transform the brand into the leading go-to online retailer within the sector.
What eCommerce innovations are you excited about?
AI is a major area of interest for us at Oxfam. We closely monitor customer behaviours and preferences in the ever-evolving online landscape. In today's consumer-driven age, customers expect prompt service and immediate responses to their queries. We are continuously exploring eCommerce innovations to enhance our online shop. Additionally, we actively engage in large marketplaces, leveraging test and learning approaches to improve our offerings on Oxfam's online platform.
How is Oxfam's online shop competing with platforms like Depop or Vinted?
I would like to emphasize that our approach is unique. Oxfam has been a pioneer in the creation of pre-loved clothing. Back in 2006-2007, we took a bold step of establishing our online shop and have since experienced organic growth. We invest a lot in marketing, SEO, ad acquisition, and more to attract a diverse customer base. Our online shop caters to a wide range of product sets, offering not only everyday items but also hidden gems that you may not find on larger platforms like Depop or Vinted.
Has anything surprised you lately in consumer shopping habits, especially with the latest generations like Gen Z?
Absolutely! Around five or six years ago, Sunday evening at eight o'clock was the golden time for eBay listings to end. So we would manipulate listings to finish on that day and at that time for maximum impact. But nowadays, Monday lunchtime can be the busiest time for online shopping. People seem to shop while at work or during lunch breaks. We now have access to so much data on customer behaviour, what they buy, and when they buy it. This information drives our business decisions and helps us adapt to changing consumer habits.
What aspects of eCommerce and retail have remained consistent throughout the years?
Shipping and postage have remained quite consistent. 78% of customers want free postage, and that's been static for a few years now. Also, the auction format remains unchanged for gem seekers and collectors who are willing to wait seven days for unique items. On the other hand, certain categories, like swimwear or t-shirts, may require faster delivery. So, while some aspects have evolved, others have maintained their relevance.
How is eCommerce unique for charities?
The charity sector has been catching up with online retailing, especially after the impact of COVID-19. When physical shops on the High Street closed down, many charities turned to online platforms to continue generating revenue. Before 2019, online retailing was often seen as something only larger charities could afford. However, the pandemic changed that perception and more charities began exploring eCommerce. People's familiarity with online shopping has made it easier for retailers to start listing items online without extensive training or investment.
What is the biggest challenge in your role?
The biggest challenge in my role is trying to connect our physical shops with our online presence. Our physical shops are smaller and limited in the range of products they can offer compared to our extensive online shop. The challenge is to find ways to seamlessly integrate the two and provide a consistent experience for our customers. While online shopping has its advantages, people still love the tactile experience of shopping in-store, and it's challenging to replicate that online.
What do you find inspiring in your role?
What inspires me in my role is the ability to work with the Oxfam brand and align it with meaningful causes and programs. Our partnerships, like the one with Marks and Spencer, help us expose our products both in physical shops and online. It's gratifying to bring a recognisable brand to shoppers and contribute to a wider mission while expanding our reach and association with other businesses.
Andy's conference at eCommerce Expo 2023
Tell us more about your eCommerce Expo 2023 speaking session
"How to manage rapid eCommerce growth that is integrated with your store offering."
In my session at eCommerce Expo, I'll be discussing a unique aspect of charity retailing. About 90% of Oxfam's online listings are generated by our volunteer community, creating around 6,000 to 7,000 new listings each week. However, there are peaks and troughs in listing production, which can impact our revenue and business. To address this, we're launching a central listing service, where our shops can send selected items to a central location for our listing and category specialists to handle. This allows us to maintain a steady inventory and provide a better shopping experience for our customers.
Don't miss your chance to see Andy Ostcliffe live! Join us at eCommerce Expo 2023!
Quick-fire questions
What is your favourite social media platform?
LinkedIn.
What is your biggest pet peeve as a customer?
Standing in line!
Who inspires you on social media?
Steven Bartlett. I think he's really down to earth in terms of how he builds his business, and I really like his quotes.
What do you see in the future of eCommerce and retail?
I think we're seeing a lot of people going back to shopping in person, and that may have just dampened slightly the growth of online shopping.
What is your favourite tool on your laptop?
The "delete" option!
What is your proudest moment in your career?
Being able to grow the British Heart Foundation's online business to the largest in the world was something really special. And I think the camaraderie we managed to build through that team was a real high for me.
What is something you're still looking forward to achieving in your career?
I'd like to find more items for a pound that I can sell for 136 pounds on eBay! It was a little diecast toy that I sold to a customer in Canada.
News for You
The latest insights and cutting edge news on evolving tools, trends, and technology to help you exploit new opportunities in the future of eCommerce.
We're sorry, but we couldn't find any results that match your search criteria. Please try again with different keywords or filters.