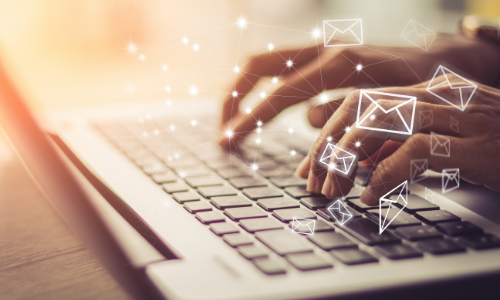 Email remains king!
It's the backbone of all marketing strategies with an off the chart ROI. However, inboxes are more crowded than ever before, so if you're going to send emails, they better to be exceptional, eccentric and engaging; take it seriously.

With that in mind, join dotdigital's Gavin Laugenie as he looks back on what we learnt since 2020, building stronger bonds with our clients, harnessing our data for more relevancy and utilizing commentary channels to make a more significant impact because email marketing isn't broken. The way you're using it is.
Make sure to tune in to the session on:
04 Mar 2021 at 10:40 - 11:05 in the Becoming truly Omnichannel Track
eCommerce Sponsor dotdigital, have a wide range of learning resources at your fingertips including:
APAC dotlive: 5 channels to prioritise for 2021
Building customer loyalty in 2021: Your new action plan
Supercharge your customer engagement with Marketing Automation (NL)
dotdive: Designing the perfect email campaign
And so much more! Make sure you check out their valuable learning resources here
News for You
15 Feb 2021 eCommerce Marketing

We recently caught up with Shaun Abraham, as part of our Speaker Spotlight series of interviews. Shaun is Co-Founder, and Chief Executive Officer at Transaction Insights and has also held senior posit ...

London, UK – 15th February 2021: Starcom UK has released its consumer insights report: A Look Ahead to 2021.

04 Feb 2021 eCommerce Expo Lenovo Executive Q&A: Ajit Sivadasan

Ajit Sivadasan is vice president and general manager of the Lenovo.com eCommerce business at Lenovo. As a founding executive of Lenovo's global online strategy, Ajit leads a global team that has helpe ...

04 Feb 2021 eCommerce Expo Marketing

Put your 2021 plan in context and seek new opportunities to develop effective strategies to grow your business.

05 Feb 2021 eCommerce Expo Marketing

What happened to Europe's e-commerce logistics in 2020? 

05 Feb 2021 eCommerce Marketing

David Williams, Ecommerce, DTC and Omnichannel Expert and ex Ecommerce director at Aspinal of London shares some of his predictions for this year in ecommerce, including the importance of tying up use ...