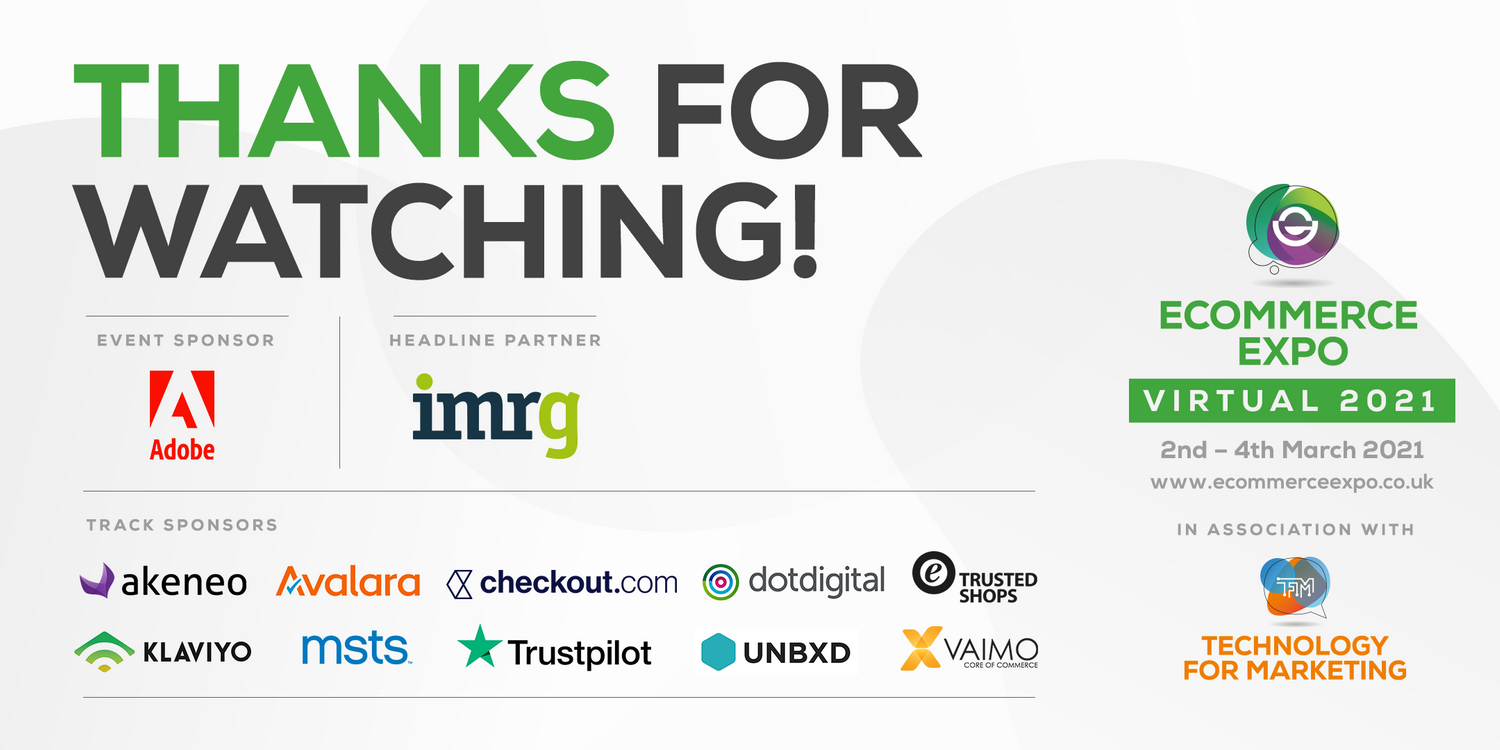 Planning for future trends in digital commerce after a year like no other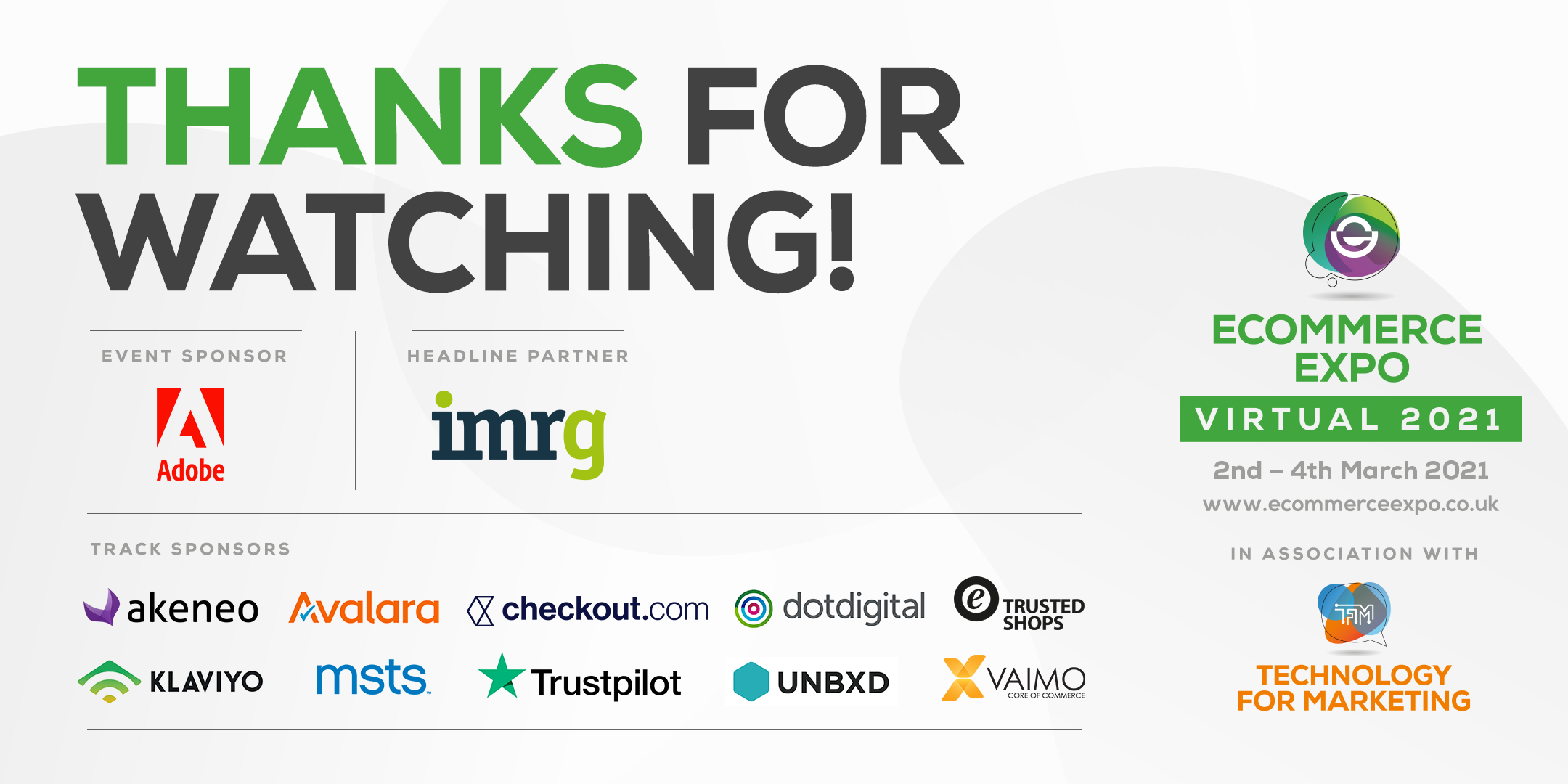 The move to digital first has been one of the most significant outcomes of the coronavirus pandemic – working, learning, socialising and shopping have all moved to online formats with non-essential physical spaces closed and restrictions on meeting up.

This year's eCommerce Expo, which also ran virtually, provided a fascinating insight into how organisations dealt with the period as online selling, virtual communication, and digital brand building came to the fore.

It provided an opportunity to talk trends, with the shift to digital and a change in consumer habits during the worst health crisis in a generation fast-tracking previously nascent areas of commerce and rendering traditional ways of doing business old hat.
The next series of thought pieces pick out the event highlights, underline reimagined digital strategies, and map out a way forward for businesses in need of a post-pandemic vision.

I was happy to chair the Becoming Truly Omnichannel panel discussion on the final day of the three-day event, which gave delegates food for thought in terms of best practice and what is of immediate concern for those in commerce.

Indeed, the whole expo was peppered with valuable information, stories of experiences from big business, and tips and techniques from the technology community – all useful for any individual or organisation operating in this rapidly changing world.
I'd advise anyone to register online to watch the full sessions on catch-up, but you can get a flavour of the event from the reflections below.

I will start with reviewing the tips, tactics and techniques from DTC brands who spoke at eCommerce Expo Virtual '21, such as Only Curls, Rat & Boa, and Ultamodan.
Ben Sillitoe, Editor, journalist and copywriter - Sillitoe Media

D2C the new normal (again!)
Despite its positioning as a modern retail disrupting factor, the concept of direct to consumer (DTC) is not new. But as this year's eCommerce Expo showed, it has a fresh meaning and is once again in the spotlight as a popular route to generating sales without the need of third-party assistance.
Canadian retail futurist and author, Doug Stephens, aka the Retail Prophet, said recently that he as "always found it curious that DTC is seen as a "new" form of commerce". In fact, he remarked, "it's the oldest form of commerce".

"Third-party, industrialised distribution was the aberration – a devil's bargain that makers had to agree to, to reach markets at scale," Stephens added.

Well now, thanks to the advent of online retail – which IMRG estimates grew by 37% year on year in the UK in 2020 – the makers are connecting directly with shoppers again.
But what makes a DTC brand tick?
"We have been lucky this year because we were set up for online business," explained Lizzie Carter, founder of hair products retailer Only Curls, who said direct engagement with consumers on social media, email and other channels is crucial when launching.

The current digital landscape allows businesses to set up and start selling, sometimes without a completely polished operation, with Only Curls co-founder Hugo Lewis explaining: "Get a product out there and start engaging."



The D2C model allows for two-way communication, and that is a circumstance womenswear retail Rat & Boa takes advantage of continuously, according to its head of digital, Richard James.

Instagram and email are the "two key pillars" of Rat & Boa's communications strategy, he said. "By building that relationship directly we have tried to understand our customers through qualitative and quantitative analysis since I joined the business in 2018 and investing marketing budgets in loyalty programmes to reward our fans."
With the cost of social ads and other paid media spiking in 2020, James focused on maximising revenue from the existing customers. He explained that analysing quantitative statistics such as recency of engagement alongside qualitative data like opinion on product is crucial to tweaking a proposition and keeping shoppers engaged.

"Your next innovation could come from understanding what makes your customers tick," he advised, talking up the benefits of the D2C channel for staying relevant.
Davina Prasad, director of women's fashionwear retailer Ultamodan, noted: "Customers want to be able to contact a brand and get a response – people really want a response in 24 hours at least.

"How you engage with your customers is going to help your cost per acquisition, the amount of pounds spent on marketing – it's key for everything to do with an eCommerce business."
The new normal (again!)
Heinz in the UK and Ireland and PepsiCo's US snack brands were standout wholesale businesses that raised their DTC games in the pandemic. They are certainly not about to cut tie with retailers altogether, but both created compelling propositions that show DTC can function as a separate customer-building channel to traditional retail, and others will surely follow as consumers' comfort with eCommerce remains.
As Carter alluded to, the trend is not going away. She said: "People have got so used to things arriving at their front door and definitely more inclined now to purchase things that they perhaps would not have purchased online before, such as hair products."
Stay tuned for next weeks' thought piece, which will deep-dive into how Eurostar, Adidas and Love Swap Home are among the businesses discussing personalisation, first-party data and the subscription economy.
Register for on-demand access to view the entire 25+ hours of content, across 8 virtual tracks - register here
News for You
The latest insights and cutting edge news on evolving tools, trends, and technology to help you exploit new opportunities in the future of eCommerce.
We're sorry, but we couldn't find any results that match your search criteria. Please try again with different keywords or filters.