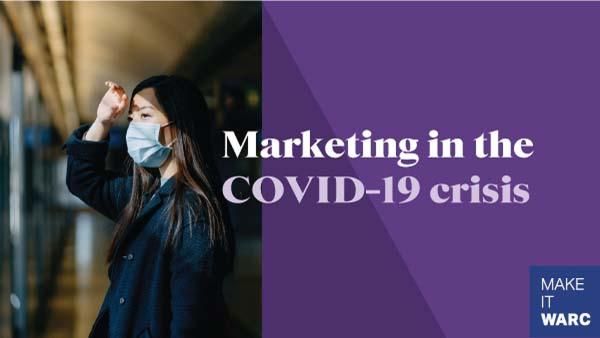 WARC's Lena Roland looks into the evidence and examples of brands weathering economic storms. 
COVID-19 has disrupted everything. Marketers are hurriedly shifting their schedules and plans. Campaigns that were worked on for months may no longer be relevant or appropriate (finger lickin' good, anyone?) Marketers are trying to get a handle on new media habits, plans are up in the air, media budgets are being shifted around - or frozen, supply chains are disrupted and there's general panic about the looming global recession.
Here's some advice to help marketers figure out how to plan and communicate in a new way. Or, not communicate, as the case may be.
Support people in tough times
While it is important to grow the brand and grow the business it's also important to help during times of need. Not because it will build brand equity or promote positive brand associations, (though this is important) but simply because it is the right thing to do. Brands that provide solutions, help alleviate peoples' anxiety and support their employees in hard times will have an advantage when the recovery begins. This can be done without an ad campaign - the best approach is to just get on with it.
An economic, and ad recession, is now highly likely
This week's Global Ad Trends report, which focuses on FMCG & COVID-19, features PMI data for February and March showing the worst results for the services sector in recent history across the US (39.1, whereby a value below 50 indicates decline), UK (35.7), Japan (32.7), the Euro area (28.4) and China (26.5). WARC clients can dig deeper here.
Look out for the WARC Guide to marketing in a recession, which is due in early May. Meanwhile, we've updated three key pieces of content to provide some guidance right now:
What happens if I stop advertising?
What we know about marketing in a recession
How can I justify the financial value of marketing investment to the board?
This recession will be different, and the usual advice may not apply
It's likely that some brands will respond to the financial pressures brought about by COVID-19 and the looming recession by going dark i.e. reducing or freezing ad spend. While this approach is not usually recommended, in this unprecedented time, this might be the best option for some brands - because right now there are likely sound reasons to prioritise other things.
But, once the immediate crisis and shock subsides, this is what you should consider.
Evidence from previous recessions shows that reducing marketing and advertising budgets, or going dark, during a downturn does not work in the medium to long term. Companies that maintained their investment generated higher growth than those who reduced budgets, or went dark.
The evidence suggests that going dark for longer periods will likely damage brand health and likely damage a brand's market share/sales. One reason – as competitors reduce budgets those that continue to advertise will see gain share of voice. And once decline sets in, it may be hard to reverse.
The evidence also suggests that it is better to maintain than have to regain key metrics and that requires treating advertising as an investment rather than as a cost. The best way to ensure long term brand growth is to maintain ad spend.
In the short-term, there might be other ways to support the brand which may compensate for reduced spend and provide some short run protection. Business analytics firm, Marketscience, conducted a comprehensive economic analysis of the last five major recessions. It showed brands that focus on customer service and satisfaction win — during and after a recession. Customer experience matters, perhaps now more than ever.
It's an obvious point but use social listening to get a greater sense of how you can help and support people through these challenging times. Identify pain points, fears, aspirations and NPD opportunities.
Develop a 'recessionary' strategy
The 2008 global recession was characterised by consumers' renewed focus on price in many markets, prompting several brands to put a 'recessionary' strategy in place. UK retailer Sainsbury's developed 'Feed your family for £5 a day', which resonated with consumers looking to manage their finances. It focused communication on quality at the right cost, whist also encouraging consumers to try new recipes. Overall brand sentiment increased as did the sales of the featured ingredients.
Recession can be the catalyst for great marketing
One example is American Express' Small Business Saturday initiative, launched in 2010, it was created to support recession-weary small businesses and has since become an annual holiday tradition. It increased consumer spend at small businesses +195% from 2012-2015 and Amex's favourability ratings.
We're in a time of great uncertainty. But there are some known-knowns. We know that when the COVID-19-induced recession passes, and it will pass, small and local businesses will need support to get up and running again. Brands can plan now and build strategies that help small businesses, the self-employed, and local communities to get back on their feet.
We also know that after months of self-isolation people will revel in each-other's company and crave in-real-life experiences – start planning for this now.
Brands may need new positioning in response to COVID-19
Back to the here and now, Rex Briggs, founder/executive board chair of Marketing Evolution, a marketing measurement and optimisation firm, said brands may have to rethink their positioning. For example, the luxury car sector is typically very status-led. But in the current climate, as the social and economic drama continues, "that positioning might shift as consumer psychology shifts into an extreme form of cocooning" that prioritises social values like safety and security.
Against this backdrop, the "whole luxury car positioning could still be around the same vehicle, but now it's around…a car that's going to take care of the safety of your family. It's a car with great features that are going to melt away your stress. It's a car that has the advanced air-filtration system so you're breathing the purest air possible."
"It's the same physical product, but a completely different positioning", Briggs said.
Keep safe and look after each other.
News for You
The latest insights and cutting edge news on evolving tools, trends, and technology to help you exploit new opportunities in the future of eCommerce.
We're sorry, but we couldn't find any results that match your search criteria. Please try again with different keywords or filters.