Graaho Limited
Hall: N14-N20 Stand: L22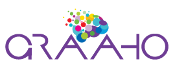 We're a dynamic technology and e-commerce services company, led by seasoned experts, offering flexible pricing, and a wealth of technical prowess to drive your key objectives.
As one of the premier Software Development Companies in Bangladesh, we're committed to delivering tangible results. Our strengths lie in AI/ML, app development, cloud enablement, business analytics, and expert consulting for mobile and e-commerce. With dedicated resources spanning AI/ML, data science, DevOps, and more, we're your partner in achieving excellence in innovating with technology.
We invite you to initiate a conversation with us about your project requirements. We look forward to exploring how our capabilities can bring your vision to reality.
Address
Gtaaho Ltd
House No: 1087, Road 6/A, Ave 8
Mirpur DOHS, Dhaka-1216
Rd Reston
Bangladesh
1216
Bangladesh